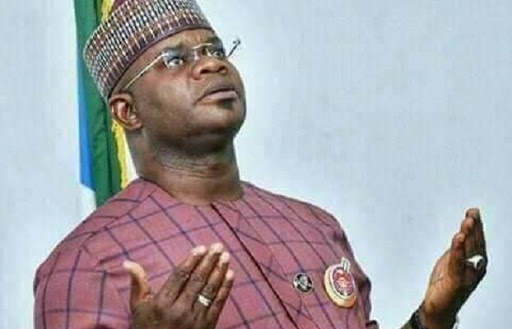 Governor Yahaya Bello of Kogi State has kicked against the administration of the expected COVID-19 vaccines in Nigeria.
Naija News recalls that Nigeria is expecting 100,000 COVID-19 vaccines by the end of January 2021.
In a video widely circulating on Facebook, the Kogi Governor could be seen discouraging a crowd of supporters from taking the vaccines.
"…They want to use the (COVID-19) vaccines to introduce the disease that will kill you and us. God forbid!" Mr Bello said.
"These vaccines are being produced in less than one year of COVID-19. There is no vaccine yet for HIV, malaria, cancer and for several diseases that are killing us… We should draw our minds back to what happened in Kano during the polio vaccines that crippled and killed our children. We have learned our lessons.
"If they say they are taking the vaccines in the public allow them take their vaccines. Don't say I said you should not take it but if you want to take it open your eyes before you take the vaccines," Yahaya Bello said.
Meanwhile, the Nigeria Center for Disease Control (NCDC) on Monday evening, 18th January 2021, confirmed 1,617 new cases of Coronavirus disease infection in Nigeria.
The new cases of COVID-19 infection were confirmed via a statement on the official Twitter handle of the health agency.
This brings the total number of confirmed COVID-19 cases in Nigeria to 112,004 which includes 89,939 discharged cases and 1,449 deaths.
Below is the breakdown of the latest cases according to states with Lagos State having the highest number of cases followed by Kaduna State.
Lagos-776
Kaduna-147
Kwara-131
FCT-102
Plateau-78
Edo-59
Ogun-53
Osun-45
Rivers-37
Taraba-36
Nasarawa-34
Adamawa-33
Kano-26
Delta-20
Ebonyi-16
Bayelsa-11
Gombe-11
Borno-2