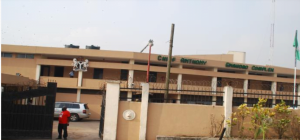 Two lawmakers in the Edo State House of Assembly have dumped the All Progressives Congress (APC) for the Peoples Democratic Party (PDP).
The two lawmakers are Yekini Idaiye (Akoko-Edo 1) and Nosayaba Okunbor (Orhionmwon East).
This development was confirmed in a letter read by the Speaker of the House, Marcus Onobun during plenary on the floor of the house.
The two legislators cited internal crisis within the APC as the reason for their defection.
Idiaye explained that he has tried his best to reconcile the factions within the APC but has been unsuccessful.
Okunbor said "I have made strenuous efforts to ensure that this division within the party is reconciled in line with the provision of party's constitution, but to no avail as the leadership of the party has simply refused to allow the issues involved to be adjudicated upon.
"Consequently, I have no other option than to resign my membership as a lean liberty they say is better than fat slavery.
Naija News reports that with the latest defections, the number of PDP lawmakers in the 10-man house has increased to nine with only one lawmaker left in the APC.
Meanwhile, former Nigeria President, Olusegun Obasanjo, on Sunday called for state police in the country.
Obasanjo while talking on restructuring, noted that there is the need for the devolution of powers, responsibilities, and resources to allow for healthy competition among states.
The ex-president stated this while speaking during a virtual interview hosted by a historian and columnist, Toyin Falola.
Obasanjo who had earlier rejected the calls for state police, however, said, he supported a statement credited to the Governor of Taraba State, Darius Ishaku, that the country would know no peace until it instituted state police.