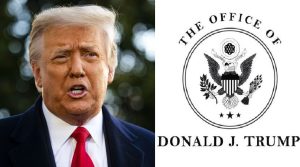 Former U.S President Donald Trump has opened the 'Office of the Former President' in Florida.
The Office's purpose will be to oversee Trump's post-presidential advocacy, "Make America Great Again".
"The Office will be responsible for managing President Trump's correspondence, public statements, appearances, and official activities to advance the interests of the United States and to carry on the agenda of the Trump Administration through advocacy, organising, and public activism.
"President Trump will always and forever be a champion for the American People," an official statement said.
Since his return, Donald Trump has not made any public appearances and has instead stayed at his luxury Mar-a-Lago resort.
Meanwhile, former Vice-President Atiku Abubakar has received the second dose of Pfizer coronavirus (COVID-19) vaccine.
Naija News reports that Paul Ibe, spokesman of the former vice-president shared pictures of Atiku being vaccinated.
Recall that Atiku took the first dose of the vaccine on January 6, 2020, in Dubai, United Arab Emirates.
Ibe had said Atiku is anxiously looking forward to when Nigerians, especially medical professionals in the frontline and the most vulnerable will be vaccinated in the country.
He said: "The importance of the #COVID19 vaccine in mitigating the effect of the coronavirus cannot be overstated, particularly in Africa and Nigeria. Yesterday (Wednesday), as part of the mass vaccination programme, His Excellency Atiku Abubakar received the Pfizer-BioNTech COVID-19 vaccine.
"He is anxiously looking forward to when Nigerians, especially medical professionals in the frontline and the most vulnerable will be vaccinated in the country."