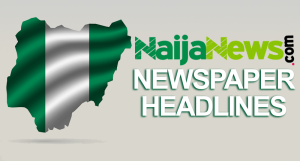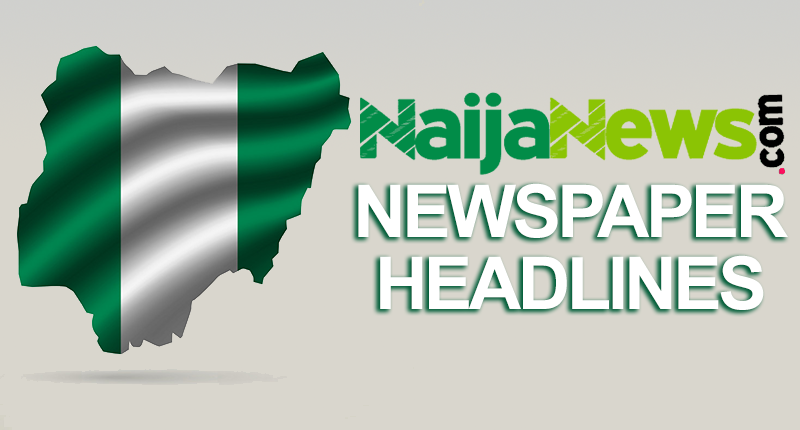 Good morning Nigeria, welcome to Naija News roundup of top newspaper headlines in Nigeria for today Monday, 15th February 2021
1. Oyo: Osinbajo Speaks On Killing In Shasha Market

Vice-President Yemi Osinbajo has condemned the "unfortunate mayhem" in Shasha Market area of Ibadan, Oyo State.
Recall that three people were reportedly killed in a clash between Hausa speaking people and the Yorubas at Shasha Market.
It was learned that the disturbing event led to the destruction of shops and properties by hoodlums who took advantage of the clash. It was reported that residents were forced to flee the troubled area around 5:30 pm.
Consequently, Governor Seyi Makinde ordered the closure of the market with immediate effect and declared a curfew.
But speaking to reporters on Sunday, Osinbajo said criminal acts should be treated according to the tenets of the law, and not as ethnic conflict.
The vice president said Shasha signifies unity among people of different ethnic groups, and urged community leaders to promote peaceful coexistence.
2. 'Nigeria On Fire, Act Now' – NEF Tells President Buhari

The Northern Elders Forum (NEF) has called on President Muhammadu Buhari to act now as the country is currently divided along tribal lines.
Naija News reports that NEF made the call through its spokesperson, Hakeem Baba-Ahmed.
In a post on Twitter on Saturday evening, he called on President Buhari to act swiftly as the country is being "set on fire".
Baba-Ahmed said Nigerians living in any part of the country must be protected, adding that there will not be any attack on southerners living in the north as a response to the alleged attack on northerners in the south.
3. PDP Condemns FG For Arresting Protesters While They Pamper Terrorists

The Lagos State chapter of the Peoples Democratic Party on Sunday described the arrest of #OccupyLekki protesters on Saturday as a reminder of Nigerians experience in the hands of military dictators.
The chairman of the party in Lagos State, Adedeji Doherty, called out the state Governor, Sanwo-Olu over arrest, humiliation of protesters, demands discontinuation of their trial."
The chairman said, "It is a shameful irony that a government that is pampering terrorists could send policemen armed to the teeth against civilians who only expressed their displeasure over a government decision."
"Lagosians will never believe that a time will come in the state when citizens' rights to peaceful protests will be muscled by a supposed democratic government."
4. Arewa Youths Issues Directive To Northerners, Warn Against Visiting S/West

Northern Youths Council of Nigeria (NYCN) has expressed concerns over the constant attacks against northerners, warning people of the region not to travel to the South-west for now.
Naija News reports that the group was reacting to the recent clash between northerners and southerners in Sasha market of Akinyele Local Government Area of Oyo State which led to loss of lives and destruction of property.
In a statement by its spokesperson Mock Kure, the group condemned the attack and called on security agents to arrest the perpetrators so as to serve as deterrent to would be hoodlums.
5. Many Killed As NAF Clash With Bandits In Kaduna

Two officers of the Nigerian Air Force (NAF) Sector 271 and scores of bandits died on Saturday following a battle in Kaduna.
In a statement, NAF Director of Information, Air Vice Marshal Ibikunle Daramola, disclosed that the clash between NAF and the bandits occurred at Ungwan Laya near Birnin Gwari Local Government Area.
Daramola noted that officers who sustained varying degrees of injuries are receiving treatment, adding that troops were able to foil the ambush.
6. Stop Making Elections Look Like A Coup – Jonathan Blasts Nigerian Politicians

Former President Goodluck Jonathan has again reiterated his position that politics and election should not be a do or die affair.
This is as he challenged Nigerian politicians not to see losing an election as the end of the road or a need to start enmity with other persons/party.
He called on those who lose an election at any level to join hands with the winner and other stakeholders to work for the good of their constituencies.
The ex-president made his view known on Saturday when he spoke at victory thanksgiving/anniversary service to mark one year in office of Bayelsa State Governor, Douye Diri.
7. We'll Protect Ourselves From Fulani Herdsmen If Buhari, Abiodun Fails To Act — Ogun Monarch

The Olu of Ilaro, Oba Kehinde Olugbenle, has warned the Federal and State governments against possible consequences of the attack on the people of Yewaland by Fulani herdsmen.
Recall that an attack carried out by suspected herdsmen on Friday in Igbooro, Oja-Odan in the Yewa North Local Government Area of the state, led to the death of three people and two villagers injured.
It was gathered that the criminal herdsmen invaded the village close to Eggua in Oja-Odan around 11pm, shooting sporadically and setting ablaze three houses and storehouses in the village.
The attack came barely 24 hours after five persons were killed in Owode Ketu.
In response, the monarch condemned the killings in a statement on Saturday titled, 'Stopping the time bomb before it is too late,' addressed to President Muhammadu Buhari and Governor Dapo Abiodun.
The monarch in his statement warned that the people might resort to self-defence if the governments failed to be proactive.
8. UAE Extends Ban On Nigerian Flights

The United Arab Emirates (UAE) has extended the suspension of flights from Nigeria (Lagos and Abuja) from February 28 to March 10.
The UAE aviation authorities made this known in the updated travel protocol posted on the website of the Emirates Airline, the flag carrier of the UAE, on Sunday afternoon.
The update reads: "In line with government directives, passenger services from Nigeria (Lagos and Abuja) to Dubai are temporarily suspended until 10 March 2021.
9. Allow All Nigerians Carry Guns, Miyetti Allah Tells Buhari

The Miyetti Allah Cattle Breeder's Association of Nigeria (MACBAN) has advised the Muhammadu Buhari-led government to allow every Nigerian to bear firearms for protection.
Bauchi chairman of MACBAN, Alhaji Sadiq Ibrahim Ahmed, said this while reacting to a comment by Bauchi Governor, Senator Bala Mohammed, that Fulani herdsmen only carry guns to protect themselves from cattle rustlers.
Speaking to the Nation on Sunday, Ahmed said the association supports the comment made by the Bauchi governor, adding that he never ordered herdsmen to go and cause chaos with it.
He noted that since the Federal government can no longer protect citizens, it's better for every citizen to protect themselves from bandits and other criminal elements.
10. If You Kill Herdsmen, Don't Go And Sleep – Miyetti Allah Threatens

The National Secretary of Miyetti Allah Kautal Hore, Saleh Alhassan, has warned that the group is ready to retaliate against the killing of herdsmen in any part of Nigeria.
Speaking in an interview with ThePunch on Sunday, he said some herders attacked in the southern part of the country are innocent.
According to Alhassan, nobody or governor has the right to evict anybody from any part of the nation.
That's the top Nigerian newspaper headlines for today. Read more Nigerian news on Naija News. See you again tomorrow.