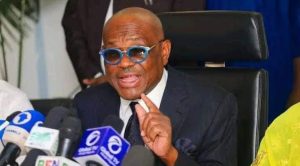 The Minister of the Federal Capital Territory (FCT), Nyesom Wike has said that he has received a presidential directive to build a new Court of Appeal in Abuja.
Wike stated this at the opening ceremony of the 2023 All Nigeria Judges' Conference of the Superior Courts of Record at the National Judicial Institute, Abuja, held on Monday.
According to him, the directive is in line with President Bola Ahmed Tinubu's Renewed Hope agenda towards ensuring that the judiciary works in an environment that supports the delivery of justice without fear or favour.
To that effect, Wike said Tinubu has directed the setting up of a new Court of Appeal division for the FCT, which would be completed in the next 15 months, as well as the construction of houses for judges of the High Court and their counterparts in Magistrates courts in the capital city.
He said, "In Federal Capital Territory Administration (FCTA), we are committed to fostering an environment that supports the judiciary in dispensing justice without fear or favour.
"We recognise the importance of a well-equipped and adequate staff force as well as the need for continuous education to ensure that our judges are abreast of the latest developments in jurisprudence.
"I am pleased to report that efforts are underway to enhance the infrastructure of our court facilities, including the welfare of judicial officers.
"The President has directed that we should, with immediate effect, construct a new Court of Appeal division of Abuja and that must be completed in 15 months.
"And the President also directed that we should construct houses for the FCT judges and magistrates in Abuja and also directed that judges of the Federal High Court in Abuja and the Court of Appeal in Abuja division must be given new quarters."
The post Tinubu Has Given Me Presidential Directive – Wike To Nigerian Judges appeared first on Naija News.