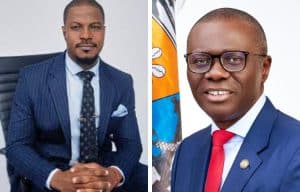 The Labour Party (LP) Governorship candidate in the last election, Gbadebo Rhodes-Vivour, has called out the Lagos State Governor, Babajide Sanwo-Olu, over a document shared online on the alleged N200 million spent on defending his mandate at the Election Petition Tribunal with taxpayers' money from the treasury of Lagos State.
Naija News reports that Gbadebo, in a post via X on Sunday, asserted that Sanwo-Olu, his deputy, Obafemi Hamzat and the Independent National Electoral Commission were taken to court and not the Lagos State government.
He slammed Sanwo-Olu over the inability to take up the legal bills and questioned why he would fund the legal issue with citizens' taxes.
He wrote: "We took Mr Sanwolu, Mr Hamzat, APC, and INEC to court. We did not take @lagosstategov to court. Why should the state fund his legal fees. Why should citizens' taxes be used to pay for his representation. This is why they are always quick to say, " Go to court" because they are so irresponsible and cheap, to not even pick up their legal bills."
Sanwo-Olu Purchased Rechargeable Fans With N2 Billion, N18 Million For Chickens
Meanwhile, the governorship candidate of the Action Democratic Congress (ADC) in Lagos State, Funso Doherty, has written an open letter to the Governor of Lagos State, Babajide Sanwo-Olu, on projects funded with taxpayers' money.
Doherty in the letter analysed the register of public procurement awards by the Lagos government for the second and third quarters of 2023.
According to Doherty, the period reviewed was from April to September.
In the open letter, Doherty listed some projects awarded by the state government that "require greater scrutiny".
The post 'They Are So Irresponsible' – Gbadebo Rhodes-Vivour Knocks Sanwo-Olu, Hamzat Over Alleged N200 Million Spent To Defend Election Mandate appeared first on Naija News.