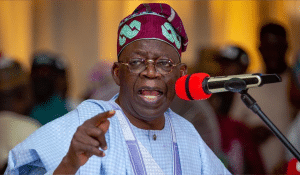 President Bola Tinubu has on Wednesday acknowledged that Nigerians are going through tough times due to his decision to remove fuel subsidy and converge the foreign exchange rate.
He, however, insisted that the tough times was a necessary sacrifice to guarantee better times in the future.
Tinubu stated this at the opening of the 19th All Nigeria Editors Conference organised by the Nigerian Guild of Editors in Uyo, Akwa Ibom State capital.
The president, who was represented by the Minister of Information and National Orientation, Mohammed Idris, said he had to remove the fuel subsidy to save the economy from suffocation.
According to him, "The removal of subsidy on petrol and the convergence of the foreign exchange rate were inevitable decisions to save the economy from suffocation.
"Though Nigerians are going through tough times in the short term, it is a necessary sacrifice that we must make to guarantee a better future.
"That is why we have put in place palliatives and other measures to cushion the effect of these hard times, which is a bridge to the renewed hope agenda, where we will all have lasting smiles on our faces as we turn the tide together."
The President said due to the economic impact of the removal of fuel subsidy, his administration has been taking all necessary measures to alleviate the resulting pain, through interventions that are designed to serve as palliatives in the short and medium-term, while the nation awaits the long-term benefits of the reforms.
The post The Though Times You Are Experiencing Is A Necessary Sacrifice – Tinubu To Nigerians appeared first on Naija News.