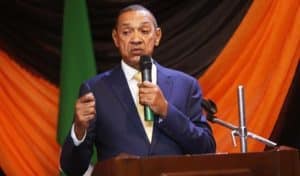 A former Bayelsa Senator, Ben Murray Bruce, has faulted the decision of the Nigeria Labour Congress (
NLC
) to shut down the nation over the union's face-off with the Imo State government.
Faulting the union's move in a tweet on Monday night, Bruce called on the Nigerian labour union to be rational and consider the national interest.
"A nationwide strike now because of an isolated incident in just one state that is already being addressed is not in Nigeria's interest. It may further a personal interest, but it will harm the national interest.
"Power must not be used to settle scores. Instead, it must be used to promote the shores of our economic and democratic progress. I call on the Nigerian Labour Congress to be rational and put the national interest and let peace reign," a tweet by Bruce read.
Naija News recalls that the NLC on Monday declared a nationwide strike from 12:00 a.m. on Tuesday.
Addressing journalists on Monday, November 13, President of TUC, Festus Osifo, said the strike would remain until "government at all levels wake up to their responsibility."
Recall that the National Industrial Court of Nigeria (NICN) last Friday issued an order of interim injunction stopping members of organised labour and their affiliates from proceeding with the nationwide strike scheduled to commence on November 14.
The post Strike: Ben Bruce Faults NLC's Decision To Shutdown The Country Over Imo Saga appeared first on Naija News.