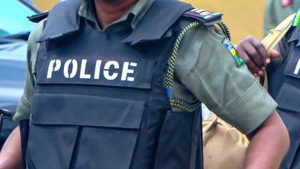 A policewoman has gone viral after she missed the lyrics of the National Anthem while reciting it at the Conference and Retreat for Senior Police Officers in Imo State.
During the event, which was aired live on Monday, the policewoman stood on the stage to render the National Anthem before the acting Inspector-General of Police, Olukayode Egbetokun, and Governor Hope Uzodinma of Imo State.
But while reciting, she sang the wrong lyrics, and this led to knocks from netizens.
See some of the reactions below.
@Elina_Ene wrote: "Maybe it's fear. Some people will be bold enough to criticise, and they cannot also sing the lyrics correctly. If I hear pimm."
@brotherbarth wrote: "I bet you'll soon hear that being able to recite the National Anthem does not determine a good Police Officer. I weep for my dear country!"
@activistfemi wrote: "What's the penalty for this national embarrassment?@Princemoye1″
@Diji_O wrote: "She should have ended it with.. "I am not the Singer"
@KenUttih wrote: "Quite unfortunate. Wrong lyrics, wrong positioning, and she's a policewoman. Unacceptable."
@Chrisdaramola wrote: "It's not her fault, How many adults can recite the National Anthem correctly?"
@codshalom77 wrote: "Chim ooo! 😂🤣😂🤣I just feel for her, in all honesty!"
@kogi_priest wrote: "What do you expect from a country where her number one citizen is using the certificate he got from a photocopy machine to govern the citizens 😂The national embarrassment that's coming is even bigger😂"
@timotiro wrote: "As funny as this is, it's also sad because it shows how unpatriotic most of us are. We are working for survival and not patriotism. This is another example of just how our institutions have failed us. Even our senators can't recite the 1st, let alone 2nd, stanza of our national anthem."
@teekaykush wrote: "We undermine competence In almost everything we do … They must have concluded that she's good-looking and has a fairly nice voice … let's give her the stage. Lobatan!"
The post Reactions As Policewoman Recites National Anthem Wrongly (Video) appeared first on Naija News.