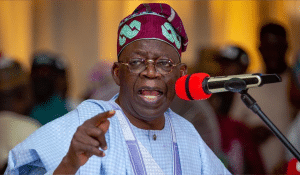 The Presidency has confirmed its absence at the signing of the 'Samoa Agreement', a partnership between the member countries of the organization of Africa, Caribbean (OACPS), the Pacific States and the Europen Union, amid a public outcry from civil society groups in Nigeria.
Naija News reports that the Samoa agreement is intended to serve as an overarching legal framework for the relationship between members of Africa, the Caribbean and the Pacific States for the next twenty years and was slated to be signed on November 15.
The agreement covers sustainable development and growth, human rights, peace and security.
However, the Civil Society Organisations (CSOs) in Nigeria condemned the agreement and said it is pro-LGBTQ.
According to the CSOs, if the governments succumb to the European Union's intimidation and sign the Lesbianism, Gay Marriage, Bisexual, Transgender and Bisexual (LGBT) agreement, it would spell doom for the nations, arguing that the pact was primarily aimed at the homosexualisation and LGBTisation of the countries.
Reacting, the Presidency in a statement via its official X account on Thursday, denied signing the document.
The Presidency said that Nigeria was not represented at the signing ceremony, which took place in Samoa on Wednesday, November 15 2023, and hence has not signed the agreement.
The statement added that relevant Nigerian stakeholders are studying the Instrument to ensure its provisions do not contravene Nigeria's domestic legislation.
The post on X reads: "Important Update: Nigeria has not signed the 'Samoa Agreement'. Relevant Nigerian stakeholders are studying the instrument to ensure that its provisions do not contravene Nigeria's domestic legislation."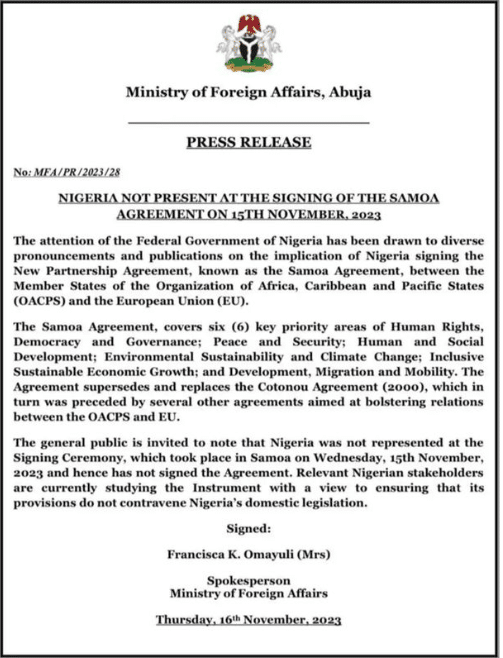 The post Presidency Speaks On Signing Lesbianism, Gay Marriage Pact After Civil Society Groups Raised Alarm appeared first on Naija News.