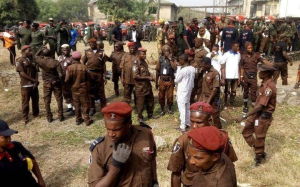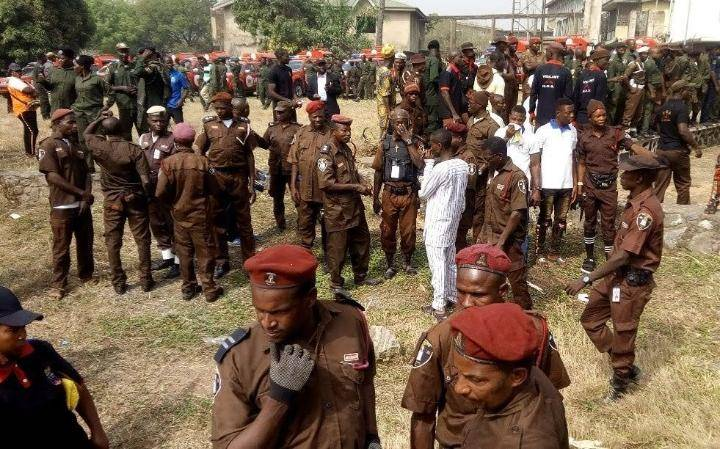 Governor Dapo Abiodun of Ogun State on Thursday, February 11 announced the opening of application portal for interested candidates into the state Operation Amotekun corps, Naija News reports.
Requirements into the state chapter of the Western Nigeria Security Network outfit founded in January 2020, include BSc degree or its equivalent for those applying for the ranks of AMT Asst. Commander of Corps, AMT Asst. Supt. of Corps and AMT Supt of Corps.
While interested candidates applying as AMT Field Corps (Operatives) must have obtained their Primary Leaving Certificate or belonged to a local vigilante group, a hunter that has the ability to read and write.
For those with NCE, ND or similar qualifications, they are advised to fill in for the post of AMT Inspector.
Naija News understands that the requirements were revealed on the state's job portal.
Other qualifications for applicants interested in the rank of AMT Asst. Supt. of Corps include being an ex-serviceman with the minimum rank of full Lieutenant in the Army and/or its equivalent in other security agencies.
While AMT Supt of Corps is required to be ex-servicemen with a minimum rank of Captain in the Army and/or its equivalent in other Security Agencies. Interested candidates for the post of AMT Asst. Commander of Corps must be an Ex-Servicemen with the minimum rank of Chief Superintendent of Police and its equivalent in the Military and other Security services.
The statement government revealed that the application portal will be closed on February 19, noting that applicants must be between the ages of 18 and 50 (Except for hunters).
Naija News understands that applicants would have to pass an Oral Board Interview and must have valid birth certificates or declaration of age.
Other requirements into the Ogun Amotekun corps include physical and mental fitness. HIV test, TB test, Blood test, X-ray and other necessary tests will also be conducted. Letters of recommendation from two guarantors, one traditional ruler or a notable person from the applicant's community as well as an attestation by the applicant's Local Government (Acting) Chairman or Secretary must be dully completed.
Meanwhile, the men of the Oyo State Security Network Agency, popularly known as Amotekun, have been directed to go after notorious Fulani herder, Iskilu Wakili.
Governor Seyi Makinde's spokesperson, Taiwo Adisa, disclosed this while speaking at a virtual town hall with the International Alliance for Justice and Peace, a Diaspora-based civil society organisation with interest in Nigeria, Naija News reports.