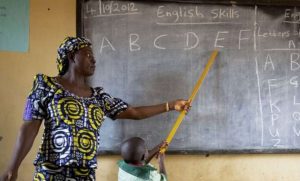 The Teachers Registration Council of Nigeria (TRCN) has warned that not all teachers will benefit from the recent enhanced welfare packages approved for the profession by President Muhammadu Buhari.
The TRCN Registrar, Prof. Josiah Ajiboye in a statement to newsmen on Thursday, disclosed that teachers who are not certified by the council and up to date with relevant pedagogical skills and experience will not benefit from the new packages.
It will be recalled that the Federal Executive Council (FEC) presided over by President Buhari on Wednesday 20th January 2021, approved a new retirement age for teachers in the country.
The FEC reviewed the retirement age of teachers in the country upwards from 60 to 65 years and also moved their years of service from 35 to 40 years.
Approval was also given for special working conditions for teachers including the introduction of bursary award, special rural posting allowances, and other incentives to boost the morale of the current crop of teachers and attract the best hands to the profession.
However, the TRCN has warned teachers to get certified and updated or miss out on the improved packages.
TRCN Registrar said: "By the time the implementation of the new policies starts in full, there would be lots of responsibility for TRCN as attested by President Muhammadu Buhari during last Wednesday's Federal Executive Council (FEC) meeting."
"Teachers should brace up for the challenge of teaching in the post-COVID-19 era in order to remain relevant. There's going to lots of scrutiny on what we do as teachers, and more people may develop interest and want to join the profession."
"However, the age extension may likely not be automatic and applicable to all teachers. After 60 years of service, we would carry out evaluation exercise for such teachers to ascertain to confirm if they can work for additional five years.
"December 2019 was deadline for non-licensed teachers to vacate the classroom. We started enforcement but COVID-19 disrupted it. But we are set to resume the enforcement as soon as we see improvement in COVID-19 situation."
Meanwhile, sixty-five (65) primary school teachers have been confirmed sacked on Friday by the Kaduna State government.
The State Universal Basic Education Board (SUBEB) which confirmed the sack of the teachers, noted that they were illegally recruited.
Naija News understands the Chairman of Sanga Local Government Area of the state, Charles Danladi had complained of the increased wage bill of teachers under his administration without any fresh recruitment.