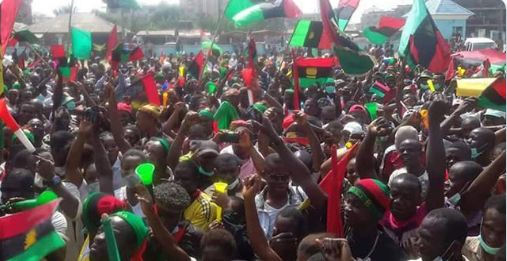 Nigeria Army have reportedly arrested the self-proclaimed Chief of Staff of the Biafra Nations League (BNL) and leader of Displaced Bakassi Peninsula Youths, Mr Linus Essien.
The National Leader of the group, Princewill Chimezie Richard, in a statement claimed that Essien was arrested in Ikang-Cameroon border area.
The BNL said their Chief of Staff was arrested on Monday evening by the security agencies, who had accused the group of setting up an armed group to fight the Nigerian soldiers across the South-South and South-east.
The group also raised the alarm over arrest and torture of its members in the Bakassi Peninsula by Cameroon Gendarmes.
The pro-Biafra group  accused the Nigerian Army of allowing military from the ceded area in Cameroon to come into Ikang, in Bakassi Local Government area of Cross River State to abduct Ambazonia separatists.
Meanwhile, the leader of the outlawed Indigenous People of Biafra (IPOB), Nnamdi Kanu, says the group will not support any Nigerian President of Igbo extraction in 2023.
Kanu made this known in a statement released on Sunday by IPOB's Media and Publicity Secretary, Emma Powerful.
According to the pro-secessionist, many of the Igbo vying for the presidency are traitors and stooges of the Caliphate that will sabotage the interest of Ndigbo and Biafrans.
Kanu said that the same people shouting President of Igbo extraction today will turn round to work against their own people tomorrow in favour of a non-Igbo because of selfish interest.
He noted that some of the politicians agitating for Igbo presidency openly worked against late Dr Alex Ekwueme, at the Jos PDP convention for the candidature of the President of Nigeria in 1999.
Kanu added that the same politicians conspired and failed to support or campaign for Peter Obi when he contested with Atiku Abubakar as running mate under PDP in the 2019 elections.