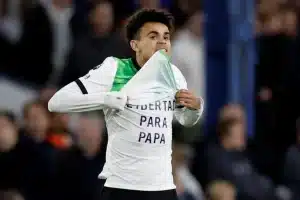 After 13 days in the kidnappers' den, Luis Diaz's father regained his freedom from Colombian left-wing guerrillas earlier today, November 9, 2023.
Recall that the Colombian winger, Luis Diaz missed Liverpool's 3-0 win over Nottingham Forest on October 29, a day after it was announced that his parents had been kidnapped in his home country, Colombia on October 28.
Some hours after the kidnap, the kidnappers released his mother but continued to keep his father, Luis Manuel Díaz, in their custody despite national and international outcry.
The National Liberation Army (ELN), the Colombian militant group behind Luis Diaz's father's kidnap, released him over to representatives of the Catholic Church and the United Nations earlier today.
According to the local media, Mr. Díaz was transported by military helicopter to Valledupar in Colombia, where he would have a medical examination before being sent back to his family.
The media cited the authorities as saying he was in good health and did not exhibit any signs of abuse.
In celebration of the release of Luis Diaz's father, family members and friends of the family drove through the streets, creating touching scenes in the neighborhood where they lived, according to Colombian newspaper, El Tiempo.
Most of them had Liverpool team shirts with the number 23 and Luis Díaz's name on them.
Note that the ELN is the only guerrilla group that is still active in Colombia. With an estimated 2,500 members, it has been at odds with the government since 1964.
The post Luis Diaz's Father Regains Freedom After 13 Days In Kidnappers' Den appeared first on Naija News.