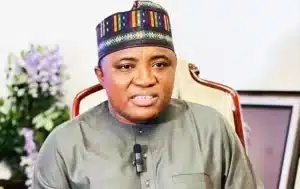 The governorship candidate of the Social Democratic Party (SDP) in Saturday's election in Kogi State, Murtala Ajaka has won his polling unit.
Naija News reports Ajaka polled 273 votes to deliver his polling unit.
The SDP candidate voted at Owoli-apa 002 ward, PU 005 , Okotonwa open space, Inikpi street, off Atta of Igala's palace, Kogi state.
Below are the results.
SDP 273
APC 8
PDP 1
Minister Of Steel Development, Audu, Hails INEC
The Minister of Steel Development, Shuaibu Audu, has hailed the organization of the off-season governorship election in Kogi state.
The minister who voted at Polling Unit 1 in Ogbonicha, Ofu Local Government Area of Kogi State, commended the Independent National Electoral Commission (INEC) for the smooth electioneering process and also praised the voters at his polling unit for their peaceful conduct.
Audu, who is the Director-General of the Kogi All Progressives Congress Governorship Campaign Council, said: "I want to commend INEC Officials for sticking to the rules of engagement; the timely conduct of the process and for ensuring all sensitive and non-sensitive materials were all intact.
"I commend my people for their peaceful and orderly conduct. The massive turnout of the people also shows their enthusiasm in the process which they believe is credible.
"So far, everywhere has been peaceful, and we believe the whole process would also end peacefully".
The post #KogiDecides2023: Murtala Ajaka Wins Polling Unit For SDP appeared first on Naija News.