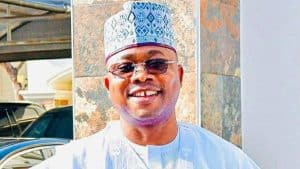 The Governor-elect in Kogi State, Usman Ododo, has appreciated his supporters and other stakeholders for their support in ensuring his victory at the governorship election held on Saturday.
Ododo expressed his appreciation in a statement, on Monday, titled 'Thank You Message By Governor-elect Of Kogi State, Ododo Ahmed Usman'
The governor-elect pledged that his administration would foster a united and prosperous community of Kogi citizens with a common destiny.
The statement read, "Dear supporters, stakeholders, and fellow citizens of Kogi State, I extend my heartfelt gratitude to each of you for entrusting my team and I with the responsibility of leading our great state from January 2024. Your unwavering support has been the driving force behind our efforts to uplift Kogi to greater heights.
"Together, we embark on a historic journey to build a united and prosperous community of people with a common destiny. Your trust is a compass guiding us in our commitment to enthroning transparent, accountable, and inclusive governance.
"As we sail the ship to new frontiers, I am confident that our collective determination will yield positive outcomes for every citizen of our dear state.
"I appreciate the diverse perspectives and contributions from stakeholders who play a crucial role in shaping our policies and decisions. Your dedication reinforces the collaborative spirit that defines our vision for Kogi State."
Ododo also thanked President Bola Tinubu, Vice President Kashim Shettima, and the National Chairman of the All Progressives Congress (APC), Abdullahi Ganduje, for their support from the campaign through to his victory at the polls.
The statement added, "Special appreciation to the national leader of our party and the President and Commander in Chief of the Armed Forces of the Federal Republic of Nigeria, Asiwaju Bola Tinubu, for creating an atmosphere of peace and a level playing ground for all the contestants.
"From the moment you handed me the flag, I knew I would be successful. You remain a platform of success for millions around our nation and our administration will work closely with the Federal Government under your leadership just like our leader, His Excellency Alh Yahaya Bello is currently doing to bring development to our dear state.
"Our Vice President sir, Sen. Kashim Shettima, your inspirational speech at the flag-off of our campaign added an uncommon vista to our unbending determination to win and win well for our dear party. We are grateful sir.
"Dr Umar Ganduje, the National Chairman of the biggest party in Africa, we appreciate your commitment that birthed our success at the poll.
"The Governor of Kogi State is my mentor, leader, benefactor, and leadership coach. He led the campaigns from the front and his numerous achievements convinced the electorate that our team would not derail from the Agenda to make Kogi State the best in Nigeria. Thank you, sir and we assure you that we will not disappoint you. As the Architect of modern Kogi State, we will continue to tap from your wealth of experience and passion to serve the great people of our state. I also thank all our party stalwarts and leaders who toiled day and night to deliver this collective success.
"To the citizens of Kogi and our nation at large, your faith in our leadership fuels our passion to serve you diligently. Your support forms the foundation upon which we build a brighter future for all. Let us continue working hand in hand to achieve the shared aspirations we hold for our beloved state.
"Thank you for your trust, your commitment, and your belief in the possibilities that lie ahead. Together, we will make Kogi State a model of progress and unity."
Ododo's appreciation comes amidst the call for the cancellation of the governorship election, in which the opposition parties claimed was filled with irregularities.
The post Kogi: Ododo Accepts Governorship Victory Amidst Call For Cancellation, Appreciates Tinubu appeared first on Naija News.