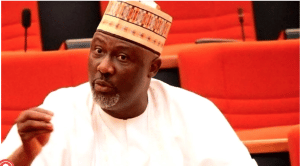 The Peoples Democratic Party (PDP) governorship candidate in Kogi State, Dino Melaye, has vowed to lead a protest against the Chairman of the Independent National Electoral Commission (INEC), Mahmood Yakubu.
Naija News reports that Melaye, who came a distant third in Saturday's gubernatorial election, while featuring on ARISE TV on Wednesday, described Yakubu and INEC as fraud.
The PDP chieftain accused INEC of helping the All Progressives Congress (APC) to rig the governorship election, insisting that the results shown are more than the PVC collected in the state.
Melaye vowed to organize a protest against Yakubu and write to the international community about the alleged rigging in the Kogi state election.
He said, "With comparative analyses from the past, I have seen different types of rigging but the brazen daylight robbery, I have never seen it before.
"INEC demonstrated that they are co-travellers with APC in this business, the speed with which they accepted the concocted results written before accreditation, with all the mutations, and reducing votes of PDP openly and increasing that of APC, people voting above accreditation tells it all.
"Results shown are more than PVC collected, I have never seen this type before.
"This is appalling and we know that the Almighty God that we serve will punish Mahmood Yakubu, he will not go free.
"We will organize a protest, we will write letters to all embassies, the international communities telling them that he is a fraud, INEC is a fraud and we will not allow it."
The post Kogi Guber: 'I Have Never Seen This Brazen Daylight Robbery' – Melaye To Take Action Against INEC Chairman, Yakubu appeared first on Naija News.