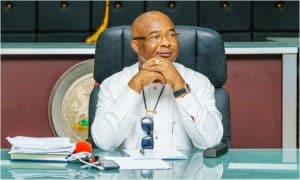 The Independent National Electoral Commission (INEC) has presented a Certificate of Return to Imo Governor, Hope Uzodinma.
Naija News understands that the certificate was presented to Uzodinma after the electoral body declared him the winner of the Imo governorship election on November 11, 2023.
The event held at Rockview Hotel Owerri on Friday attracted several dignitaries, including All Progressives Congress (APC) chieftains.
Uzodinma was re-elected for another four-year term after securing the highest number of votes in the election.
He received 540,308 votes, while the candidate of the Peoples Democratic Party (PDP) came in second with 71,503 votes. The results announced by INEC showed that Uzodinma swept all the 27 Local Government Areas of the state.
The re-elected governor defeated his counterpart from the Labour Party, Athan Achonu and Samuel Anyanwu of the PDP.
Meanwhile, the LP governorship candidate, Achonu, has vowed not to congratulate Governor Uzodinma over his victory in the November 11, 2023, governorship election.
Achonu, in a statement released through his spokesperson, Chibuikem Diala, described himself as the true winner of the election.
Reacting to a report of him visiting Uzodinma and congratulating him, Achonu said it is a "wishful thinking that can never happen."
The statement described the rumour "as a script from the pit of hell and could only be the handwork of evil minds, which this government is well known for.
"After foisting the worst electoral heist on Imo State, the governor and his bootlickers are spreading fake news purporting that his opponents in last Saturday's election had paid him a congratulatory visit."
He described the congratulatory story as "childish and very poorly written.
"For the avoidance of doubt, Senator Achonu had since categorically rejected the result declared by the Independent National Electoral Commission, INEC, and called for its review and cancellation.
"He had also held a joint press briefing with Samuel Anyanwu (SamDaddy), the candidate of the Peoples Democratic Party, and insisted that the result of the governorship election must be reviewed or cancelled, warning that unless the INEC did so, the people might revolt."
The post Just In: INEC Presents Certificate Of Return To Uzodinma appeared first on Naija News.