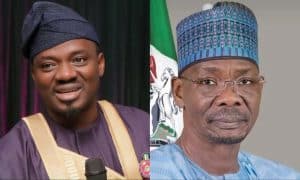 The Court of Appeal has scheduled the hearing for the appeal filed by Nasarawa State Governor Abdullahi Sule on Wednesday, 15th November.
Governor Sule is contesting the majority judgement of the Governorship Election Petition Tribunal in Lafia, which ruled in favour of the candidate of the Peoples Democratic Party (PDP), David Ombugadu.
The notice of hearing was issued to the parties involved in the case by the Electronic Desk Officer of the court, Nasiru Alhassan, Naija News reports.
The notice obtained by journalists on Sunday noted that the hearing will begin at 9 am at the Court of Appeal, Abuja Division.
Governor Sule had previously approached the Court of Appeal to challenge the decision of the governorship petition tribunal regarding his re-election. On Sunday, October 15, 2023, the governor filed the Notice of Appeal through his lead Counsel, Chief Wole Olanipekun, SAN.
It is worth noting that the governorship election petition tribunal in Lafia had recently declared the Peoples Democratic Party (PDP) candidate, David Ombugadu, as the lawful winner of the March 18 governorship election in the state in a split judgment.
However, a dissenting ruling by one of the three judges upheld Governor Sule's election.
Governor Sule has expressed his disagreement with the majority judgement delivered by the chairman of the tribunal, Justice Ezekiel Ajayi.
He believes that the judgement lacks merit and does not have sufficient evidence to support its position. As a result, he has decided to appeal the decision.
In his notice of Appeal, the governor has listed 27 grounds on which he seeks a determination by the appellate court. One of the key issues he raises is the jurisdictional competence of the trial tribunal to order the immediate swearing-in of Ombugadu as the governor. Governor Sule argues that since the tribunal is not the final court, it does not have the necessary authority to make such an order.
Furthermore, he contends that the majority decision of the lower tribunal in declaring the return of PDP's Ombugadu failed to adhere to the provisions of Section 179 (2)(b) of the 1999 Constitution as Amended and Section 66 of the Electoral Act 2022.
Governor Sule also emphasizes that there is no evidence before the tribunal that demonstrates the percentage of votes obtained by Ombugadu in relation to the total votes cast in two-thirds of the 13 Local Government Areas of the State, as required by Section 179(2) of the 1999 Constitution as Amended.
Sule, therefore, urged the Appellate Court to set aside the lower court's decision and affirm his election victory as declared by the Independent National Electoral Commission (INEC).
Daily Trust claimed to have sighted the hearing notice with Ombugadu, PDP, Independent National Electoral Commission (INEC) and the All Progressives Congress (APC) as 1st, 2nd, 3rd and 4th respondents in the appeal.
The post JUST IN: Appeal Court Fixes Wednesday For Nasarawa Governorship Dispute appeared first on Naija News.