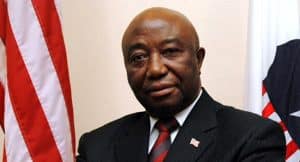 Former Vice President of Liberia and candidate of the Unity Party, Joseph Boakai, has been officially declared the winner of the 2023 presidential election.
This declaration was made by the Chairperson of the National Election Commission (NEC) Liberia, Davidetta Lansannah, on Monday evening.
With 100 per cent of votes from the country's 5,890 polling places counted, Boakai garnered 814,481 votes of the available 1,625,684 votes, compared to the 793,914 scored by incumbent president George Weah of the ruling Coalition for Democratic Change.
Boakai's votes constituted 50.64 per cent of the total votes cast while Weah's votes were 49.36 per cent of the votes cast.
The first round of voting on 10 October did not yield a clear winner among the 20 presidential candidates participating, leading to the runoff between Messrs Weah and Boakai, the top two contenders.
Unlike the first round, where a winner must score over 50 per cent of the votes, a victor only needs a simple majority to be declared the winner of the second round.
Recall that reported that Weah had accepted defeat and congratulated President-elect Boakai. The outgoing president said this is a time for graciousness in defeat, a time to place our country above party, and patriotism above personal interest.
Also, President Bola Tinubu and the United States Government have congratulated Boakai on his victory and also commended Weah for accepting the outcome of the tightly contested election.
The post Joseph Boakai Officially Wins Liberia's Presidential Election appeared first on Naija News.