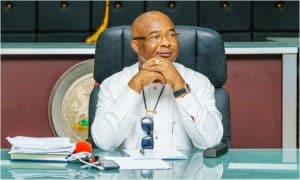 Governor Hope Uzodinma of Imo State expressed his gratitude to President Bola Tinubu and the Independent National Electoral Commission (INEC) for his re-election in the off-cycle poll held on Saturday.
Uzodinma also thanked the people of Imo State for their support and votes in the election.
In a statement posted on his official handle on Sunday, Uzodinma called on other governorship candidates to join hands in developing and uplifting the state.
The re-elected governor applauded the security agencies for ensuring a peaceful election on Saturday.
Uzodinma emphasized, "I extended a hand to my fellow contenders from other parties, urging them to unite with me in the effort to build and uplift our dear State. In the spirit of inclusivity, we operated a government that transcended political differences for the benefit of all."
He also expressed profound gratitude to his team, party, and every citizen of Imo for their unwavering support, stating that the progress of the state is a result of their collective efforts.
Uzodinma commended the Independent National Electoral Commission (INEC) and its officials for ensuring a fair and neutral electoral process.
He extended special thanks to the leader of his party, President Bola Ahmed Tinubu, for his guidance throughout the electioneering period.
Naija News had reported that INEC declared Uzodinma the winner of the Imo election after he defeated other candidates, including Samuel Anyanwu of the Peoples Democratic Party (PDP) and Athan Achonu of the Labour Party (LP).
The post Imo State Governor Uzodinma Expresses Gratitude, Extends Hands Of Fellowship appeared first on Naija News.