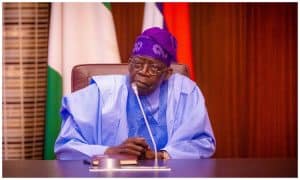 President Bola Tinubu has boasted about his achievements as former Lagos State governor during the signing of deals worth over $500 million by Nigerian companies on Tuesday.
Naija News reports that the deals were signed at the 10th German-Nigerian Business Forum in Berlin during which Tinubu disclosed how he transformed Lagos during his time as governor.
"I governed Lagos for eight consecutive years. Today, I can proudly beat my chest that Lagos state is on the horizon and the fifth-largest economy in Africa, rising from ground zero. This is the track record that led me to the presidency," said Tinubu.
Speaking further, the president assured German investors that challenges hindering them from doing business with Nigeria are being actively addressed by his administration.
"For those who fear various obstacles; look at me—I come from the private sector, trained by Deloitte. I served as the treasurer in Exxon Mobil. Define corporate governance in any way, and I am in it," he said.
Tinubu's comments came as two important agreements were signed between Nigerian and German companies.
The first agreement, between Riverside LNG of Nigeria and Johannes Schuetze Energy Import AG of Germany, will see the supply of gas from Nigeria to Germany.
The second agreement, between Union Bank of Nigeria and DWS Group, will see $500 million worth of renewable energy projects invested in Nigeria.
The post I Can Beat My Chest And Say I Made Lagos The 5th Largest Economy In Africa – Tinubu appeared first on Naija News.