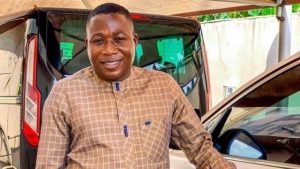 A coalition of Yoruba groups, Igbimo Apapo Yoruba Lagbaye (IAYL), has faulted the comment made by a human rights lawyer, Fem Falana (SAN), on popular Yoruba youth leader, Sunday 'Igboho' Adeyemo.
Naija News reports that Falana, during an interview on BBC on Wednesday, criticised Igboho for issuing a quit notice to herders in the Igangan area of Oyo State.
According to Falana, herders who have lived in the area for 10 years had the constitutional right to remain there, and that Igboho has no right under the law to drive them away.
The Senior Advocate also called on affected herders to sue Igboho for the invasion of their settlement and defend their constitutional rights.
But in a statement on Thursday, the group said Falana ignored the atrocities perpetrated by herders in Oyo state and other parts of the country while concentrating on the rights of the herders.
The statement was signed by the Yoruba group President, Aare Oladotun Hassan, and its Secretary-General, Siyanbade Adekanbi.
The group vows to raise 100 senior advocates of Nigeria and other prominent lawyers to defend the youth leader and Yoruba if he is dragged to court.
The statement said: "Today it is crystal clear to the blind on the current position we find ourselves in Nigeria, whereas government has failed in its statutory duties to provide adequate security for her people, hence self defence becomes inevitable solution.
"We are disappointed to see Mr Falana's clandestine call for fundamental rights legal attrition against Sunday Igboho as most unfortunate, demeaning and treacherous, for someone of the legal calibre of Falana to support the Fulani herdsmen, bandits, wrecking havoc ranging from kidnappings, rape, mass destructions, killings and invasions of farmlands and communities at will, at the detriment of the victim's fundamental human rights."
The group said it would not withdraw its support for Igboho, and that it would also stand by him if taken to court.
"We reiterate our supports for Igboho and other like minds, that for any legal action against him or others, we are prepared to raise 100 SANs and senior lawyers of erudite qualities to defend the Yoruba interests at the court," IAYL said.
The group said herders, who destroyed farmlands, killed farmers, and raped women are not real Nigerians and asked the Nigerian Immigration Service to wake up to its duties.
It said: "Indeed Falana failed to sue the killer herdsmen, mostly whose identities are deceitfully more visible as Fulanis rather than real Nigerians.
"While those that invades farmlands most times are Fulani foreign fighters from Mali, Sudan, Niger, Libya to mention a few, hence the Nigeria Immigration Service needs to wake up to her responsibility urgently.
"We are not surprised to see the crafty statements from some of the so called enemies of the Yoruba people and Nigerians at large. We Yorubas are the most accommodating ethnic race in Nigeria, we love everyone including Hausas, Fulani, Igbos, Efiks, Ijaws to mention a few, and they all can attest to their peaceful habitation and successes."