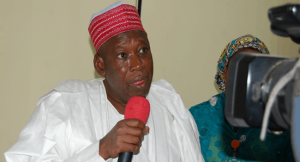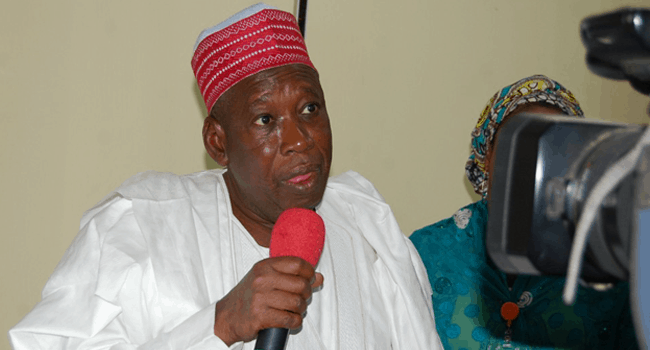 Kano State Governor Abdullahi Umar Ganduje has disclosed that the former Emir of Kano, Muhammad Sanusi II, expelled from the honourable position because he could not tame his tongue.
The governor while appearing on Politics Today, a Channels Television programme, alleged that the former Central Bank Governor did not understand the responsibilities of a traditional ruler.
Naija News recalls that Sanusi was dethroned on March 9, 2020, by the governor Ganduje led government following a series of controversies. According to the state government then, Sanusi was removed from office over allegations of gross insubordination.
A statement by Alhaji Usman Alhaji, the Secretary to the Kano State Government, said Emir Sanusi's dethronement was due to his "total disrespect to lawful instructions from the office of the governor and other lawful authorities."
The government insisted that it removed the respected figure "to safeguard the sanctity, culture, tradition, religion and prestige of the Kano Emirate built over a thousand years."
Conversing with news correspondent on Friday, Ganduje again pointed out that the former emir was unable to transition from a social critic to a traditional ruler, adding that the former emir forgot "to watch his tongue" and was destroying the institution.
Ganduje said: "The real story was that the deposed emir of Kano did not understand the responsibilities of a traditional ruler especially for a strong institution like that of Kano.
"The emir of Kano was a social critic, a celebrated social critic and there was nothing wrong with that because he is an educated person; there is freedom of speech."
The governor said as deputy to former Governor Rabiu Kwankwaso, Sanusi was an executive director in a bank. He alleged that Sanusi then stated that instead of providing water in Kano State, they (Ganduje and others) were building a house in Abuja, the governor's lodge in Asokoro.
He said: "I remember my governor said either the bank sacks him or we should withdraw our accounts from the bank and the bank did not sack him, so we withdrew N969m from that bank. That was the work of a social critic."
Ganduje further said that Sanusi when he became the emir of Kano, refused to change his stature to that of a traditional ruler.
"He is an economist but he failed to understand (that) in economics, you have to inherit assets and liabilities," he said.
The governor added: "But he only inherited the assets of a traditional institution by giving orders, staying in a mansion, dressing gorgeously, (and) being addressed as a king, but (not) the liability of that institution – you have to watch your words. You have to watch your tongue, and he didn't do that.
"That was the problem. That was the biggest problem; that he could not change his mode of life from social critic to an institution.
"As of now, that institution does not afford a social critic of his style. With the problem in the society, he was destroying the institution. That was why I had a problem with him; he was destroying the institution," Ganduje added.
Meanwhile, Muhammadu Sanusi ll has hailed the Kano government for banning an Islamic cleric Abduljabar Nasir-Kabara, in the state.
Naija News reports that the state governor, Abdullahi Ganduje, had banned Nasir-Kabara for alleged inciteful preaching. He was also accused of an "uncompromising stance" against Sunni practices.