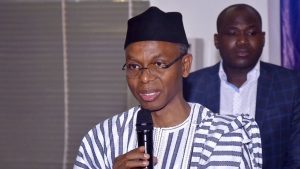 Governor Nasir El-Rufai of Kaduna State has approved January 25 as the resumption date for tertiary institutions in the state.
This was made known in a statement on Sunday by the Permanent Secretary, Ministry of Education, Mrs. Phoebe Yayi.
Phoebe Yayi stated that the new approval coming after the government had assessed all tertiary institutions in the state to ensure their level of preparedness and plans for reopening.
She disclosed that the COVID-19 assessment team confirmed a full compliance with the state's COVID-19 preventive protocols and for safe learning environment against the pandemic.
The permanent secretary appealed to managements of all the tertiary institutions to ensure strict adherence to all the guidelines and protocols put in place by the state government.
"Resumption by all tertiary institutions will be in phases, as provided by the institutions and according to their academic levels and subject to their compliance with the guidelines in place.
"Unscheduled monitoring visits to schools across the state will be conducted by the task force team to ensure continuous compliance with the COVID-19 guidelines," she added.
Meanwhile, former Senate President Bukola Saraki has called on President Muhammadu Buhari to provide leadership following the crisis rocking Oyo and Ondo States.
In a statement on Sunday, the former Kwara governor also slammed politicians who are keeping quiet over the Fulani herdsmen crisis because of their 2023 ambition.
Saraki, a former presidential aide, stated that a united Nigeria will benefit everybody better than a disintegrated country.
He said: "I have watched with concern the recent development in Oyo and Ondo States in which quit notices were given to Fulani herders and there were subsequent burning of the property of the Fulani herdsmen in some parts of Oyo State. These happenings have increased the tension and unduly raised the temperature in the country.
"The ugly development in these two states are symptomatic of the continued threat to the unity of our country that we have witnessed on a higher scale in recent times and in different parts of the country, including the South-East and South-South zones.
"The deafening silence by key stakeholders, leaders and others who we think should speak out is worrisome. This silence is a dangerous tell-tale sign that things are wrong. This is not good for our country.
"We must all speak out and talk about the solution to this twin-problem of insecurity and threat to national unity.
"We all do not have another country to call our own other than this one country, Nigeria. We need to live in peace with each other and it is my prayer that Almighty God will continue to preserve the unity of the country."