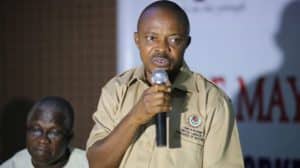 The Nigeria Labour Congress (NLC) President, Joe Ajaero, has clarified that organized labour will not back down from their planned industrial action in Imo State until all of their demands are fully addressed by the State Governor, Hope Uzodinma.

Naija News reports that Ajaero expressed this determination during a press conference at the Labour House in Abuja today where he emphasized that this was his first public appearance since the attack on him in Owerri, the capital of Imo State, on November 1.
Despite being accused of involvement in partisan politics, Ajaero, who was clad in dark eyeglasses during the press conference, explained that the demonstration where he was attacked, was solely aimed at seeking justice for workers who had not received their salaries for several months in the state.
During the briefing, Ajaero recounted his harrowing experience to the journalists, revealing that he was arrested by the police and subsequently handed over to thugs who subjected him to physical assault. They mercilessly beat him and dragged him on the ground while also issuing death threats and suggesting that they would dispose of his body in a river.
"We heard that the workers who arrived at the protest venue as early as 7 am were beaten up, their belongings seized, and they were chased away.
"So, I arrived there by 9 am with about 20 security personnel and was about to address journalists on the situation when the police and other people in mufti came in and withdrew all the security there.
"They arrested me and handed me over to thugs who dragged me on the ground, hit me with all manner of things and tied my eyes. There were about seven of them.
"They started asking me why I was challenging Governor Hope Uzodinma, and that I should say my last prayers, and that they were going to throw me into Njaba River. From there, I did not know how the same people took me to the police headquarters," the labour leader narrated.
Ajaero, who thanked God for his life, noted that the struggle would still have continued if he had died.
"Not even my death could have stopped the struggle for the payment of those workers. If I had died in the process, the people who would have taken over would have been more daring.
"Any of the deputies here that would take over would have been more decisive. So, nobody is backing out; it is a question of allowing justice to prevail and paying the people you are owing.
"He (Uzodinma) said I am playing local politics. I do not know which one is local politics. I am not a card-carrying member of any political party in Nigeria, and as a governor, he should be privileged to some classified information to be able to say which political party I belong to.
"But, I thank God that I am alive today. Whoever has diverted the workers money, has diverted blood money and has attracted generational curse," he stated.
Refuting claims that he was partisan, the labour leader said: "I am not sure that anybody from my village is contesting for any election, not to talk of my family members.
"Anybody that is supporting the non-payment of workers salaries, him and his family, if they work, they will not do it. That is the mission. It is a divine mission.
"I do not have any family members or whatever running for election but they are free to run if they are interested. If I want to run for any office tomorrow, I will pick the form of any party.
"There is no law that forbids a civil servant from contesting elections. The appeal court has also made it clear. It needs permission for a protest or rally. You only inform the security."
Speaking on his health condition, Ajaero stated that he will not be opting for medical treatment in foreign countries due to the NLC's stance against medical tourism abroad.
He emphasized that he will remain in the country for medical attention until it becomes absolutely necessary to travel overseas, even if it means risking his life.
The post Details: What NLC President, Ajaero Said About Uzodinma, LP, Police In Abuja Press Briefing appeared first on Naija News.