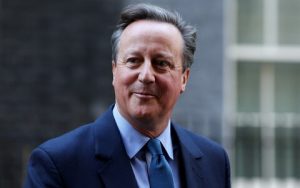 A former British Prime Minister, David Cameron, has been appointed as the new Foreign Secretary by Prime Minister, Rishi Sunak.
The UK government announced on Monday that Cameron would join the government as part of a wider reshuffle in which Cameron replaced James Cleverly as the new foreign secretary.
Naija News earlier reported that Suella Braverman was sacked as the Home Secretary and replaced by Cleverly.
In a statement, the government also confirmed Jeremy Hunt would remain as chancellor.
In a post on X, formerly known as Twitter, Cameron hoped that his experience as Conservative Leader and Prime Minister would assist him in helping Sunak to meet the vital challenges facing the country.
He wrote: "We are facing a daunting set of international challenges, including the war in Ukraine and the crisis in the Middle East.
"At this time of profound global change, it has rarely been more important for this country to stand by our allies, strengthen our partnerships and make sure our voice is heard.
"While I have been out of front-line politics for the last seven years, I hope that my experience – as Conservative Leader for eleven years and Prime Minister for six – will assist me in helping the Prime Minister to meet these vital challenges."
Cameron stood down in 2016 after losing the Brexit referendum but reportedly told friends in 2018 he wanted to return to frontline politics, preferably as foreign secretary.
Since then, he has maintained a relatively low profile, though he became embroiled in scandal two years ago when he lobbied government ministers to provide financing for the now-insolvent financial services company Greensill Capital.
He returned to the headlines last month when he said Sunak's decision to cancel the HS2 high-speed train line between Birmingham and Manchester was wrong.
Cameron has also been a strong supporter of the UK retaining its commitment to spending 0.7% of gross national income on international aid, a commitment Sunak has since junked.
The post David Cameron Returns To UK Govt As Foreign Secretary appeared first on Naija News.