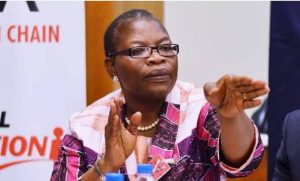 Former Minister of Education in Nigeria, Oby Ezekwesili has condemned the decision of the Central Bank of Nigeria (CBN) to ban cryptocurrency in the country.
Ezekwesili in her reaction via a Twitter post on Saturday described the CBN policy as 'regress-into-the-Stone Ages-policy.'
It will be recalled the CBN on Friday, ordered banks in the country to shut down the accounts of cryptocurrency traders.
The CBN in its directive, told Deposit Money Banks (DMBs), Other Financial Institutions (OFIs), and Non-Bank Financial Institutions (NBFIs) local financial institutions to stop any transactions in crypto or facilitating payments for crypto exchanges.
The apex bank in the circular signed by Director of Banking Supervision, Bello Hassan, and Director, Payments System Management Department, Musa I Jimoh warned that disobedience to the directive will attract sanctions.
"Breaches of this directive will attract severe regulatory sanctions," the CBN warned.
"Further to other regulatory directive on the subject, the bank hereby wishes to remind regulated institutions that dealing in crypto currencies or facilitating payment from cryptocurrency exchanges is prohibited.
"Accordingly, or DMBs, OFIs, NBFIs, are advised to identify persons and /or entities transacting in or operating crypto currency exchanges within their system and ensure that such accounts are closed immediately," the apex bank warned.
Reacting to the directive, Ezekwesili tweeted, "Frankly, CBN, all you needed to do was map all the legitimate risks associated with #cryptocurrency and gather a subset of the super brilliant Nigerian young minds in #FinTech so you listen and learn more. Learning is the greatest asset of the policy-maker. Never late.
"Our country's DNA for irony is uncanny. At the same moment, as we celebrate one of our own leading a global trade institution, we have a memo from our Central Bank making country appear unprepared to embrace the future."
"Now, whenever I see an egregious regress-into-the-Stone Ages-policy move by @NigeriaGov or its
@cenbank and recall something one had previously said on same issue, only a SMH follows."
"I'll repost tweets from my September 2020 Keynote speech @BlockchainNG conference."
"Na waaa."
Meanwhile, a former presidential candidate and a chieftain of the All Progressives Congress (APC), Adamu Garba has urged Nigerians to shift attention away from investing in cryptocurrencies and rather invest in cows.
Garba in a series of tweets from his Twitter account, supported the decision of the CBN and called on Nigerians to invest in cows.
He argued that the policy is not a bad one but would limit the activities of fraudsters who swindle ordinary Nigerians of their hard-earned money.