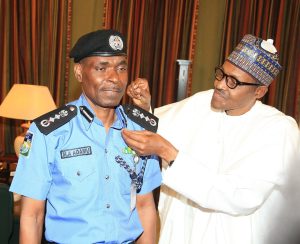 The Attorney-General of the Federation and Minister of Justice, Abubakar Malami (SAN), has said President Muhammadu Buhari was right to extend the tenure of the Inspector-General of Police (IGP), Mohammed Adamu.
Speaking on Channels TV's Politics Today on Wednesday, Malami acted in accordance with the law in extending IGP Adamu's tenure.
He also said Buhari acted within the timeframe stipulated by the constitution and exercised his powers to appoint persons into offices subject to confirmation by the Senate.
AGF Malami said the argument of some lawyers were not based on facts available to President Buhari.
"What I am saying in essence is that within the context of official records, within the context of the action taken by Mr President in terms of extension of tenure, the necessary compliance of with the law has been consummated, and the president was and indeed acted within the context of the law," he said.
Recall that President Buhari had extended the tenure of IGP Adamu for three months.
This development was disclosed by the Minister of Police Affairs, Maigari Dingyadi while briefing State House correspondents at the Presidential Villa, Abuja.
He noted that the extension of the IGP's tenure by the president is to allow enough time to select a new police boss.
The decision of the president to extend by three months, the tenure of the IGP stirred controversy as many lawyers alleged a breach of Sections 215 and 216 of the 1999 Constitution and Section 7 of the Nigerian Police Act 2020, and alleged breach of the country's constitution.