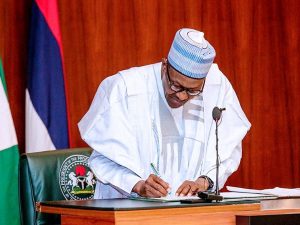 Nigeria President Muhammadu Buhari on Wednesday, January 20 presided over Federal Executive Council (FEC) first meeting in the year 2021.
Naija News understands that the president before the meeting ended inaugurated three members of the Code of Conduct Bureau and a member of the Police Service Commission.
The meeting which is usually held at the Presidential Villa, Abuja, today witnessed the presence of Vice-President Yemi Osinbajo, and some other members both physically and virtually.
The three persons inaugurated as the CCB members are Ehiozuwa Ogbonayinma, Babatunde Balogun and Benedict Umeano with Onyemuche Nnamani for the PSC.
Reports revealed that a minute silence was observed in the meeting in honour of two former ministers, Jubril Martins-Kuye and Bala Kaoje, who died a few days ago.
Meanwhile, the Pan Yoruba Socio-Political Group, Afenifere, has called out the president over the directive of the Ondo State Governor, Rotimi Akeredolu, directing Fulani Herdsmen to vacate the state government reserves in the next seven days.
The group in a statement by its spokesman, Yinka Odumakin said Buhari's regime has shown its non-pretence that it represents only Fulani interests against other tribes in the country.