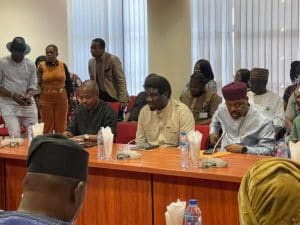 The Nigeria Labour Congress (NLC) and the Trade Union Congress (TUC) will today hold an emergency joint extraordinary National Executive Council (NEC) meeting by 7 pm.
Naija News reports that this is following organised labour's meeting with the National Security Adviser, Nuhu Ribadu.
The emergency meeting was disclosed by the National Vice President of the TUC, Tommy Etim, in an interview with The PUNCH in Abuja.
Etim revealed that the NSA briefed the leadership of the organised labour on the steps taken so far.
He also noted that the union leaders secured the commitment of the NSA.
Etim noted that the union leaders were satisfied with the NSA's steps so far.
He said: "We commend the steps taken so far by the NSA. He made us understand that he didn't see the issue on the ground as a political fight. He also noted that two people have been arrested in line with the brutalisation of Ajaero. Initially, the government felt the strike would not hold. They were shocked to see that we went ahead with our threats.
"We are going to have an extraordinary joint NEC this evening by 7pm and I can tell you there is hope."
Recall that Ribadu met with the leadership of the organised labour in his office in Abuja earlier in the day.
The NSA had announced that the individuals responsible for the brutalisation of Ajaero had been arrested.
Recall that the NLC and TUC, on Tuesday, declared an indefinite nationwide strike to protest the assault on the NLC President, Joe Ajaero, and other labour leaders in Owerri, the Imo State capital, on November 1.
Other grievances of Organized Labour include outstanding salary arrears, unjust declaration of 11,000 workers as ghost employees, unsettled gratuities, non-compliance with the N30,000 minimum wage act, and declaration of 10,000 pensioners as ghost retirees.
The post BREAKING: NLC, TUC Calls Emergency NEC Meeting appeared first on Naija News.