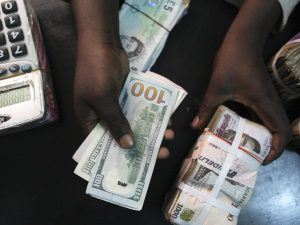 What is the Dollar to Naira Exchange rate at the black market also known as the parallel market (Aboki fx)?
See the black market Dollar to Naira exchange rate for 6th November, below. You can swap your dollar for Naira at these rates.
How much is a dollar to naira today in the black market?
Dollar to naira exchange rate today black market (Aboki dollar rate):
The exchange rate for a dollar to naira at Lagos Parallel Market (Black Market) players buy a dollar for N990 and sell at N1005 on Monday 6th November 2023, according to sources at Bureau De Change (BDC).
Please note that the Central Bank of Nigeria (CBN) does not recognize the parallel market (black market), as it has directed individuals who want to engage in Forex to approach their respective banks.
Dollar to Naira Black Market Rate Today
| | |
| --- | --- |
| Dollar to Naira (USD to NGN) | Black Market Exchange Rate Today |
| Buying Rate | N990 |
| Selling Rate | N1005 |
Dollar to Naira CBN Rate Today
| | |
| --- | --- |
| Dollar to Naira (USD to NGN) | Black Market Exchange Rate Today |
| Buying Rate | 782 |
| Selling Rate | 783 |
Please note that the rates you buy or sell forex may be different from what is captured in this article because prices vary.

Scammers Swipe ₦5 Billion From 3 Fintechs In Just 8 Months
Nigerian fintechs faced a substantial loss of about ₦5 billion in just eight months due to the increasing activities of hackers and fraudsters.
In a shocking eight-month spree of cyberattacks, Nigerian fintech companies have fallen victim to a series of devastating breaches, collectively losing over ₦5 billion to cunning fraudsters.
These relentless assaults on the financial technology sector have not only raised concerns about the industry's security but also unveiled an alarming surge in insider involvement in these financial crimes.
The digital battleground for these fintechs intensified as hackers and fraudsters, driven by both sophisticated tactics and inner betrayals, took advantage of vulnerabilities in the systems. Even well-secured payment platforms were compromised when interconnected with sister fintechs, lacking adequate cybersecurity measures.
As per a report by Nairametrics, the escalating wave of fraudulent activities plaguing the Nigerian financial sector is mainly attributed to the rise in insider jobs, a challenge that has left fintech companies grappling to fortify their defence mechanisms.
Darlington Onyeagoro, the Chief Executive Officer of one of Nigeria's leading digital banks, Aladin, shared a harrowing account of how hackers infiltrated a Nigerian fintech, making off with over ₦800 million.
The post Black Market Dollar To Naira Exchange Rate Today 7th November 2023 appeared first on Naija News.