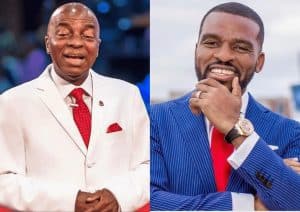 The son of Bishop David Oyedepo, Isaac, on Tuesday broke his silence concerning the news of his alleged breakaway from Living Faith Church Worldwide.
Speaking in a statement, Isaac, via his Instagram, stressed that his relationship with his family and father are not strained as alleged.
He further maintained that he remains a steadfast member of the Living Faith Church, urging the public to treat information not communicated by him with caution.
His statement reads, "It is worthy of note that no external statements have been authorized or verified by me.
"I must state that there are no complications in my relationship with my beloved family, and my beloved dad (Bishop David Oyedepo), who have stood by and supported me over the years; nor are there any in my commitment to my church-turned-home, Living Faith Church (also known as Winners Chapel International).
"I remain a steadfast member of Living Faith Church, dedicated to service in the Body of Christ.
"I urge the general public to treat information not communicated by me, or from any of my social media platforms, with extreme caution.
"There should be no further publication(s) on social media, electronic or print media, about any severance of my relationship with the Living Faith Church, or my family, without my express authorization, as it may be considered a breach to my privacy. Thank you so much for understanding."
The post Bishop Oyedepo's Son Breaks Silence On Quitting Living Faith Church appeared first on Naija News.