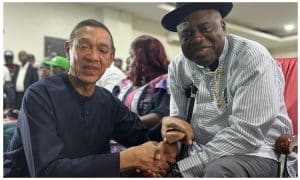 Former Senator Ben Murray-Bruce has congratulated Governor Duoye Diri and Deputy Lawrence Ewhrudjakpo on their landslide victory in the Bayelsa gubernatorial election.
Murray-Bruce conveyed his best wishes via his social media platform, praising not only Governor Diri but also acknowledging the crucial role played by Deputy Governor Lawrence Ewhrudjakpo in their joint success.
In a post on his social media account, Murray-Bruce stated, "Congratulations to my brothers, Governor Duoye Diri, @govdouyediri, and Deputy Governor Lawrence Ewhrudjakpo, on their remarkable victory in Bayelsa State's gubernatorial election.
"The significant margin of victory is a testament to the trust and confidence the people of Bayelsa have in their leadership.
"Similarly, commendations are due to Deputy Governor Lawrence Ewhrudjakpo, whose dedication and service alongside Governor Diri have played a pivotal role in this success. Their collaborative efforts have been instrumental in steering the state towards progress and prosperity."
Notably, Naija News reported on Governor Duoye Diri's successful re-election as the Peoples Democratic Party (PDP) candidate in the Bayelsa State Governorship Election.
Diri secured victory by winning six local government areas, while his closest rival, Timipre Sylva of the All Progressives Congress (APC), managed to secure victory in two local government areas.
The decisive moment came when the results from the last local government, Southern Ijaw, were announced. Diri's lead over Sylva extended to a significant margin of 65,088 votes. The final tally revealed that Diri garnered a total of 175,196 votes, while Sylva trailed behind with 110,108 votes.
As the Independent National Electoral Commission (INEC) officials made final preparations at the collation centre in Yenagoa, the state capital, the official announcement of the result was eagerly awaited.
The victory underscores the overwhelming support and endorsement of Governor Duoye Diri's administration by the people of Bayelsa State.
The post Ben Murray-Bruce Celebrates Governor Duoye Diri's Big Win In Bayelsa Election appeared first on Naija News.