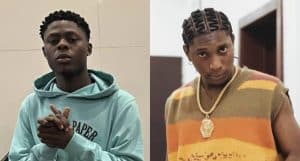 Nigerian singer, Abiola Ahmed Akinbiyi, popularly known as Bella Shmurda, has promised to take responsibility for the child of his late colleague and friend, Mohbad.
Naija News reports that this comes amidst calls for the child's DNA test by Mohbad's father and some critics to ascertain his paternity.
In a message via his Instagram story to his late friend, Bella Shmurda said he is still struggling to recover from the shock of losing Mohbad, even when he had been told to stop mourning.
The 'Cash App' crooner said he has become addicted to alcohol since Mohbad's death, expressing regret that his son, Abiola Imole, would grow up not knowing his namesake.
He, however, promised to maintain Mohbad's legacy and take care of his son, Liam.
Sharing a picture of Mohbad, Bella Shmurda wrote: "You told me to stop it [mourning]. [I] have been trying. I just hope you're okay where you are, cos [I] have not been happy for days. [I] have been drinking and going back and forth on how to move on.
"It's said [that] Abiola Imole never get to know you. But be rest assured [that] I will tell your story. And I will definitely take care of our fruit [son]. I'm passing all the love to our sons.
"Lol. Lowkey, I'm Bell and Sons Inc."
The post Bella Shmurda Makes Promise To Mohbad's Son Amidst Uproar For DNA Test appeared first on Naija News.