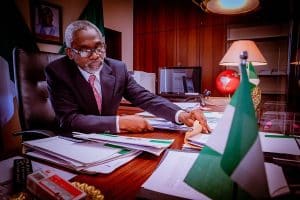 Femi Gbajabiamila, the Chief of Staff to President Bola Tinubu, has dismissed media reports of alleged abuse of office and sale of appointments.
Recall that a report in the Daily Post had stated that the President's loyalists are pushing for the sack of Gbajabiamila over the alleged sale of appointments.
The report claimed that since Tinubu assumed office, most names approved by the President for appointments were allegedly replaced by the Chief of Staff.
The platform reported that one such case was the replacement of the name of Ekiti Resident Electoral Commission (REC) with the name of a former commissioner under the former Governor of Ekiti State, Kayode Fayemi.
In a statement on Sunday, Gbajabiamila stated that no amount of propaganda will cause President Tinubu's administration to fail or lose focus from the renewed hope agenda.
Gbajabiamila, who did not make any reference to the report of his alleged abuse of office, stated that the current government will not pay attention to baseless accusations.
He noted that the Supreme Court verdict has given Tinubu's agenda a stable platform to deliver good governance to Nigerians, saying that no distractions will be allowed.
The statement reads: "Last Thursday, the SC gave the renewed hope agenda a stable platform to deliver good governance to Nigerians. Our agenda is not driven by pecuniary politics, and no amount of propaganda can derail our focus.
"We have a critical assignment to deliver, and our objectives will not be interrupted by baseless accusations from unverifiable quarters. Nigerians can rest assured that the President and his strong team will deliver without distractions."
The post 'Baseless Accusations' – Gbajabiamila Speaks On Report Of Abuse Of Office appeared first on Naija News.