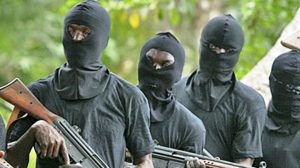 Bandits have killed seven vigilantes and burnt more than 50 motorcycles in an ambush in the Mashegu council area of Niger State.
It was learned that the bandits ambushed the vigilantes when they were mobilizing to launch an attack on a hideout for bandits believed to have killed seven farmers in the area two weeks before.
Sources said a mole among the vigilantes leaked the planned attack. Bandits rounded up the vigilantes while they were finalizing their attack plan.
"The bandits opened fire at the vigilante killing seven of them on the spot and injured several others. The bandits also set fire on over 50 Motorcycles belonging to the local security men that were parked at a distance to where the meeting was being held," the source said.
Meanwhile, the Secretary to the State Government, Ibrahim Ahmed Matane, who confirmed the development described it as "very sad".
Matane however said government in collaboration with all the security agencies in the state have begun a massive assault on bandits lurking around forests in the state.
"Recently the security agencies burnt down completely one of the camps of the bandits," he said.