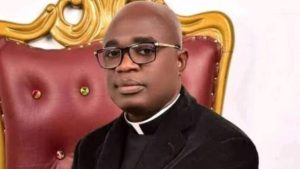 The convoy of the Benue State Governor, Hyacinth Alia, has been reportedly attacked by some youths in the Ugondu community in Makurdi LGA of the state on Wednesday.
According to reports, youths from the Ugondu community of Makurdi LGA of Benue, who pelted the governor's convoy with stones, were protesting over plans to bury the proprietor of Vaatia College, Makurdi, Michael Vaatia within the school premises located in their community.
Six of the protesting Ugondu youths were arrested by the police for throwing objects at the governor's convoy.
Gov Alia had visited Vaatia College to assess the level of preparation for the burial of the deceased proprietor.
Vaatia, who is the proprietor of the College, died a couple of days ago and is to be buried within the school premises on Thursday.
The angry youths from the host community of Ugondu allegedly invaded the school and destroyed the grave.
They were seen in large numbers chanting war songs when the governor was addressing leaders of the community in the school.
According to the Daily Post, the said youths disrupted the proceedings as security escorts attempted to prevent them from accessing the school, while some of the governor's entourage were trapped outside.
Sources who spoke with the platform said the youths allegedly fired gunshots into the air to scare people but were overpowered by the arrival of the police special unit, code-named Operation Zenda, and several of them were arrested.
Gov Alia, while addressing leaders of the Ugondu community, among them were former Senator Fred Orti, retired Permanent Secretary Akange Audu, Ter Makurdi, and other traditional rulers, cautioned against acts that could create chaos and disunity in the state.
He said, "I have come to correct some misgivings that happened in the rulership of your son as governor.
"I sent both the Tiv, Idoma, and other tribes overseas for training without discrimination.
"I want to believe you, the traditional and community leaders, denying involvement in what has happened.
"Surely, some youths arrested will make confessions and if they mention your name, be ready to go and answer."
He added that about a week ago, an Igbo man and one other person who died were buried in Makurdi town without protest from any youth group and called for calm.
Gov Alia, who later addressed students on campus, assured them of safety during and after the burial.
He directed the Assistant Commissioner of Police in charge of Operations to ensure that peace prevails during the wake-keep and the burial slated for Thursday.
The reconstruction of the damaged grave by the irate Ugondu youths was ongoing at the time of this report ahead of the interment of the deceased proprietor on Thursday.
The post Angry Youths Allegedly Stone, Boo Governor Alia In Makurdi appeared first on Naija News.