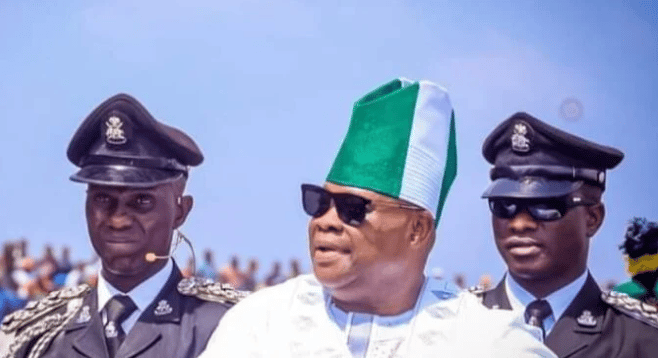 The newly sworn-in Governor of Osun State, Ademola Jackson Adeleke has made ten major promises to the people of the state upon his assumption of office.
Adeleke made the promises in his inaugural address after he took the oath of office and allegiance at the Osogbo City Stadium on Sunday.
Below are the ten promises made by the Osun governor to the people of the state.
1. I promise that those expectations of the workers, traders, artisans, farmers, business owners, students, pensioners, traditional and religious leaders, and indeed all residents of Osun State will be met by the grace of God and the cooperation of everyone.
2. Under my watch as the Governor of Osun State, I will boldly correct all past injustice, corrupt acts, or policies by any previous administration which are against the collective interest of our people.
3. My administration will demonstrate a high sense of urgency, transparency, justice, and innovation to tackle and solve the problems of poverty, illiteracy, disease, and poor infrastructure.
4. I will be accessible, responsive, consultative, and proactive in handling small and big matters of State Governance. Your Governor will be a people's Governor.
5. I will prioritise in-service training and welfare of teachers, enhancement of the school environment, the entrenchment of discipline in the school system as well as the involvement of the Parents-Teachers Association in our school administration system.
6. My administration will shift attention to agriculture for export to take advantage of global markets, aside from the introduction of modern agricultural practices. I will establish modern farmers' markets where producers and off-takers can transact businesses, while we target agriculture export earnings. 
7. My administration will restore the integrity of the civil service which has been bastardised through favouritism and political considerations. We will give the civil service a better orientation with a view to restoring its professionalism. In doing this, we will be fair and firm as we act only in pursuance of the public interest.
8. In our desire to diversify the Osun economy, my administration will target the tourism sector to boost our GDP and create new jobs. My administration will encourage and partner with traditional institutions, business organisations, and foreign partners to develop the culture and tourism industry which includes our beautiful waterfalls, the Osun Osogbo World Heritage site, and many cultural festivals across the state.
9.  My government will give premium attention to the improvement of Primary Health care services. We will improve the working conditions of health workers and expand the coverage of our health insurance scheme. . We plan to establish a standard diagnostic centre using the Public Private Partnership model and adopt measures that will retain medical practitioners in Osun state.
10. We will embark on a security sector reform that will target crime prevention, detection, neighbourhood policing, and better synergy among security agencies. The Amotekun Corps will be strengthened while our administration will ensure operational linkage between local hunters and the Amotekun Corps.
This article was originally published on Naija News