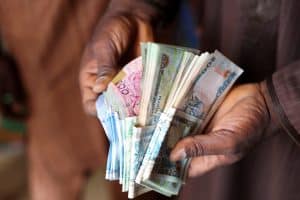 The Nigerian Naira recorded a striking appreciation against the US dollar, reaching a monthly peak of N780.14/$1 at the official market on Friday. This significant rally marks a 27.77% increase from its previous close, setting a new benchmark in the currency's performance.
The Central Bank of Nigeria's (CBN) proactive measures, including clearing its FX backlog, have bolstered investor confidence in the Naira. The move was well-received by market analysts, who view it as a positive step towards stabilizing the currency.
Data from the NAFEM, where forex is officially traded, highlighted this upswing, with the Naira gaining N216.61 from its Thursday close of ₦996.75. This jump surpassed the previous all-time high of ₦776.14, recorded on November 3rd.
However, the day's trading saw significant volatility, with the Naira hitting an intraday high of ₦1096.17/$1 and a low of ₦700.00/$1. The forex turnover at the close of trading stood at $84.02 million, marking a 63.24% decrease from the day before.
Contrasting this official market gain, the Naira weakened in the parallel forex market, depreciating by 3.54% to N1130/$1. Peer-to-peer traders quoted rates around ₦1100/$1.
The CBN's initiative to clear the backlog of foreign exchange forward contracts is a key driver of this recovery. This move is expected to relieve the business sector and stimulate the economy.
Nigeria has grappled with dollar shortages since foreign investors withdrew during low oil prices. The CBN's recent efforts and the finance minister Wale Edun's announcement of an anticipated $10 billion inflow to improve FX market liquidity are viewed as vital steps to address these challenges.
Industry experts, including Toye Folosho from the Manufacturers Association of Nigeria, have lauded the CBN's actions. They anticipate that clearing the backlog will positively impact sectors like manufacturing, which have been hindered by the inability to procure raw materials and machinery.
Gabriel Idahosa, deputy president of the Lagos Chamber of Commerce and Industry, commended the move, emphasizing its potential to restore confidence in the traditional market, attract portfolio investors, and encourage foreign direct investments.
The post Naira Surges To ₦780/$1 in Official Market Amid CBN's Forex Moves appeared first on Naija News.