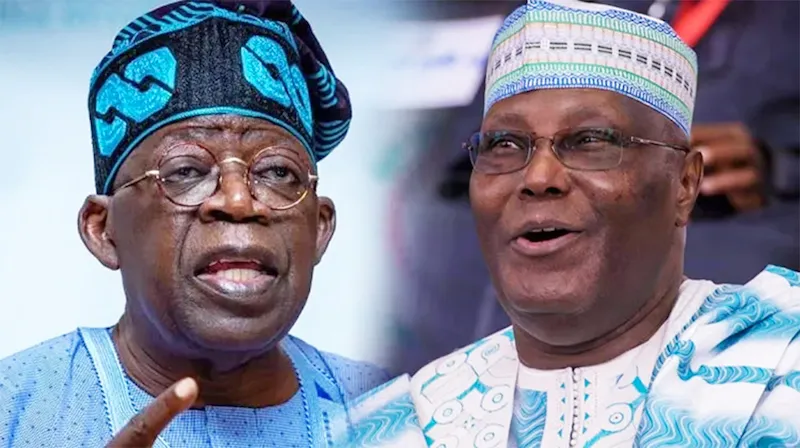 Two aides of the presidential candidates of the ruling All Progressives Congress (APC) and the main opposition Peoples Democratic Party (PDP) have come out to bater words over the alleged gaffe by the APC flag bearer in Lagos on Saturday.
Naija News reports that the APC Presidential Campaign Council Director of Media and Publicity Bayo Onanuga, in defence of his principal, Bola Tinubu, described the gaffe as a non-issue.
According to him, only an unserious party and candidate will be concerned with unimportant matters like speech slips when there are serious issues to look into.
Onanuga's reaction followed an attack on Tinubu by the Special Assistant on Public Communications to Atiku Abubakar, Phrank Shaibu.
Naija News reported yesterday that a call had gone out to APC to replace Tinubu with another candidate ahead of the 2023 general election.
Shaibu, who made the call because of the APC rally gaffe, said the move was necessary in other to avoid further embarrassment to the APC by it's flag bearer.
His statement was a sequel to a gaffe Tinubu allegedly committed on Saturday at a Lagos rally, where he mispronounced permanent voter cards (PVC) as APV.
Tinubu while addressing party members at the rally on Saturday said, "Do you love me? Do you love me? Go and take your APV, and APC and you must vote."
Shaibu had however related to the issue in a statement on Sunday when he asked that Tinubu should be replaced "to avoid further embarrassing scenarios occasioned by his continued miscues and gaffes."
He submitted that "It is public knowledge that every time Tinubu has come out in public to make a statement or two, he has always goofed. If he is not saying that voter cards have an expiration date, he is saying that young Nigerians are tweeting on WhatsApp or that 50 million youths should be recruited into the Nigerian Army and be fed with cassava in the morning and agbado in the night. How can you say Nigerians are tweeting on WhatsApp? Common, is that the kind of person we want to hand 21st century Nigeria over to?
"In his latest gaffe at the Lagos rally, he asked Nigerians to get their APV to vote for APC when even primary schoolchildren know that the PVC is the only item that admits a voter into a polling unit.
"Without mincing words, Tinubu's gaffes already supply comedians, skit makers, meme-makers, and TikTokers with content. He is a self-writing joke and will make Nigeria a bye-word for scorn among the comity of nations, which is why he shouldn't get close to power.
"Truth be told, lack of mental depth complicated by dementia occasioned by old age is the most-recommended criterion against a Tinubu presidency. And examples abound to buttress this point."
However, Naija News understands that the APC spokesperson in his response described Shaibu' comments about his principal as a campaign in nitpicking.
Onanuga pointed out that Shaibu had left the germane issues raised by Tinubu at the rallies in Abakaliki, Warri, Gbaramatu and Lagos about PDP's corrupt act while in power for 16 years.
He said Atiku's aide had failed to address the accusations levelled against the party about how the PDP looted the Nigerian commonwealth in its 16 years in power and how it failed to solve electricity crisis, rail, roads among others, instead he decided to make issues out of a speech slip.
Onanuga noted that "It is a campaign in nitpicking. It is surprising that Shaibu left the germane issues raised by Asíwájú at the rallies in Abakaliki, Warri, Gbaramatu and Lagos about how PDP looted the Nigerian commonwealth in its 16 years in power, how it failed to solve electricity crisis, rail, roads and so on. Only an unserious party and candidate will be concerned with unimportant matters like speech slips."
This article was originally published on Naija News